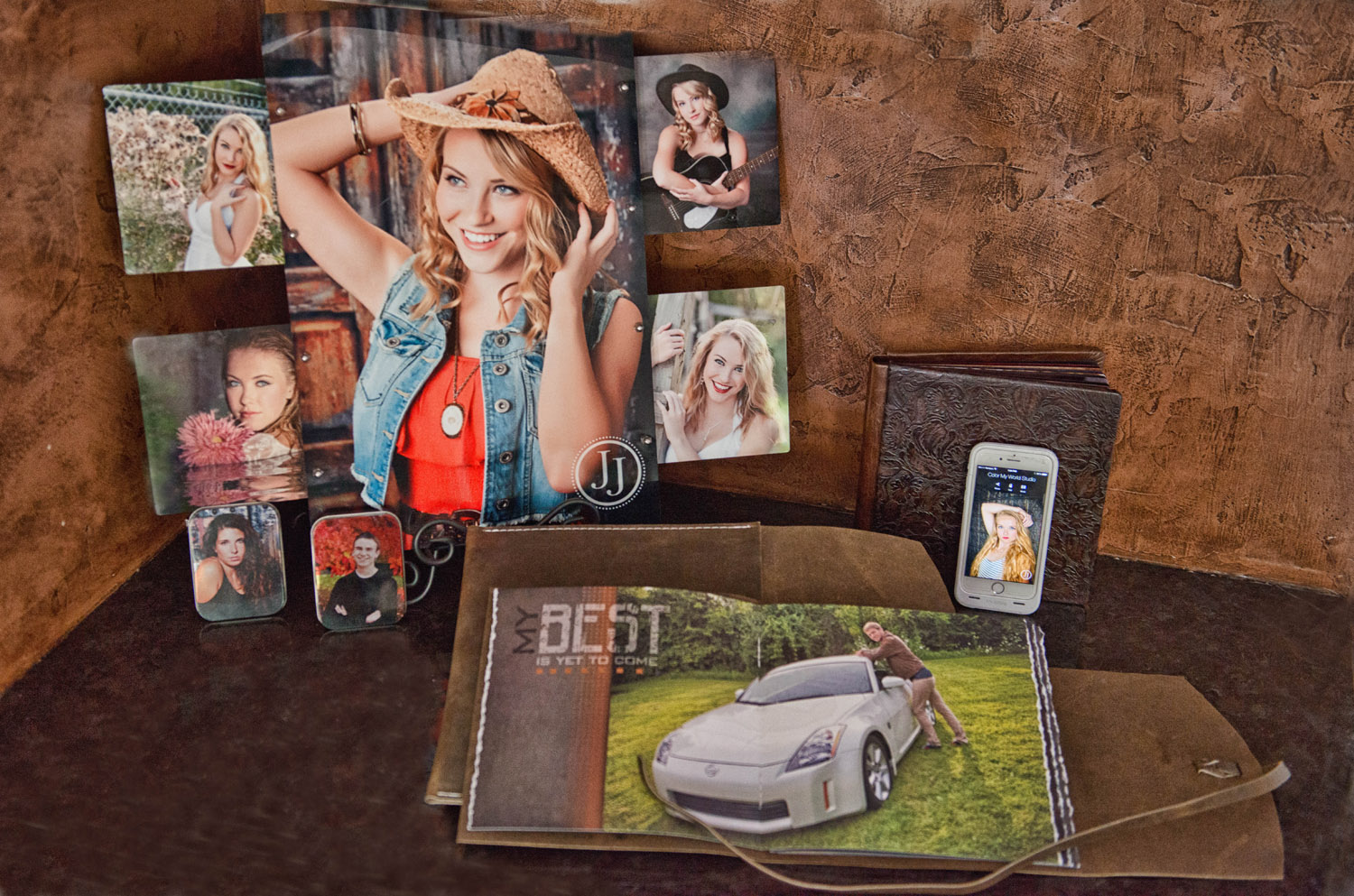 HERE'S WHAT PEOPLE ARE SAYING ABOUT THEIR PORTRAIT EXPERIENCE
Brownsburg Senior Pictures
- by
Olivia Eyster
My name is Olivia Eyster and I live in Brownsburg, Indiana. I attend Brownsburg High School as a senior, and I participate in color guard. I hope to attend IU next fall for pediatric oncology nursing. Towards the end of my junior year I volunteered at the Princess for A Day fundraiser. JJ happened to be one of the photographers there, and was in need of a model for a photography class she was teaching a couple weeks from then. After modeling for her I was given the chance to become one of her senior reps. JJ had made the photography class so enjoyable and fun I knew this was an opportunity I didn't want to miss. On the actual day of my pictures I was ecstatic to begin. JJ made me feel comfortable and overall made sure I had a good time. All of the outdoor locations we went to were stunning, and I knew the pictures would turn out amazing. Though the entire experience was fun my all-time favorite part was my aqua session. They were so unique and different I knew I had something in my senior pictures other seniors didn't. When I came back to see the finished product, I was blown away. All of my pictures were absolutely stunning. Especially those from my aqua session. All the colors were so vibrant and overall the picture was just breathtaking. JJ is an extremely talented photographer and I'm so grateful I chose her to take my senior pictures.
Indianapolis Senior Pictures
- by
Dustin Broyles
My name is Dustin Broyles and I live in Indianapolis, Indiana. I am in my senior year of high school at Traders Point Christian Academy. I am on my school's baseball team and I also play travel ball all year round. I plan on attending Indiana University and majoring in Biology or Chemistry in order to have my prerequisites for Dental School. I had the opportunity to work with JJ on my senior pictures both outdoors and in her studio. She also did senior pictures for my older brother and those looked fantastic. I knew that JJ would be able to capture some great pictures of me in and out of her studio. She made the session very natural, comfortable, and especially fun! After seeing the pictures, it is easy to say that I am very happy with how they turned out. Big thank you to JJ for taking the time to capture my senior pictures!
Indianapolis Senior Pictures
- by
Jody Olson
"I'd always admired the unique photos taken by JJ and used in advertisements for her Color My World Studio. When my son went to college, I missed him immensely and felt we should have some family photos taken before he "flew the coop" permanently. JJ was so helpful by referring me to her Pinterest page and her web page to get ideas. When the day came to shoot our photos, I was nervous but JJ made it all so easy and natural! She even had my stoic teenage son smiling like a pro! Picking out our photos was hard because they all were fantastic. They weren't just photos, they were works of art. Needless to say, I'm thrilled to have these special keepsakes in my home!" Jody Olson
Milton, Wisconsin Senior Portraits
- by
Sophie Hanson-Rinehart
My name is Sophie Hanson-Rinehart and I live in Milton, Wisconsin. I am entering my senior year at Milton High School. I am on my school's poms/dance team and I competitively downhill ski in the winter.  I plan to attend IUPUI next fall and will be trying out for their dance team in the spring. In Milton, basically all senior pictures are done by 4-5 different photographers in the area. Therefore, most senior pictures in my area look all relatively similar to each others. So, as soon as my junior year was closing, I knew I wanted to do something different and creative with my senior pictures. I am an Indiana girl at heart, and that all started when I went to the Indianapolis 500 when I was 4. I have since gone every year since then and that has made me fall in love with IMS and Indiana. I thought it was an amazing idea to have my senior pictures done at IMS because it is like home to me and it was different. I found JJ and found her award winning photo of her son at IMS and immediately contacted her. She was quick to respond and was eager to get me down to Indiana to take my pictures.  I had pictures taken at IMS, several outdoor locations and the studio. The locations JJ had for me were amazing and beautiful. It was an incredible experience thanks to JJ. She made me feel very comfortable and made things fun! I will never forget the happiness and excitement I had that day. I was so eager to everything she had gotten over the course of the day. When we returned to Indiana to see the pictures, I was stunned. They were so amazing and beyond beautiful. JJ is a true professional and does wonderful work. Even though I live 2 states away, it is well worth the drive to get portraits taken by her. Thank you, JJ for making my senior pictures something I will never forget.
Carmel High School Senior Pictures
- by
Tony Vitiritto
My name is Tony Vitiritto, and I'm a senior at Carmel High School. I play football and throw shoutout in field. I'm also involved in my school's orchestra and multiple clubs. I plan on going to college next Fall and majoring in Business Entrepreneurship, as well as continuing my career as a football player. I had the privilege of working with JJ Kaplan on my senior photos, and coming from someone who doesn't like their picture taken, she made things enjoyable and easy. She was able to create photos that were what both me and my family wanted. She was able to create scenes for my backdrop that I was impressed by, and throw out ideas that really turned out great. I would for sure recommend JJ and Color My World Studio to anyone looking to get their senior photos done. I had a great time and would choose JJ Kaplan again.
FIshers High School Senior Pictures
- by
Sarah Jaeger
Hi, my name is Sarah Jaeger and I'm currently a senior at Fishers High School.  One of my favorite parts about high school has been being a part of the tennis team, and in my free time I love to swim, run, and be outside.  I plan to go to college next fall and major in business.  My family first heard about JJ when we were looking for a photographer to get a family portrait that had a specific look.  JJ did a fantastic job. She was so much fun to work with that I wanted to work with her for my senior pictures.  Once I heard about all the exciting things she does for seniors I was immediately interested in being a senior rep for her.  I wanted my portraits to look completely different from everyone else's and she did an exceptional job doing that!  My first shoot with JJ was in her studio.  She made the experience fun and comfortable. My second shoot was a longer session and we went to some beautiful outdoor locations. I love that JJ made my experience unique and incorporated my favorite things in my pictures, like my tennis uniform and my puppy! I would for sure recommend JJ to anyone looking for amazing senior pictures, a family portrait, or any occasion!
Zionsville Indiana Senior Pictures
- by
Hannah
Hannah wrote: "Just got finished with a photo session with JJ Kaplan and it was absolutely phenomenal!!! Such a wonderful woman to work with and Zionsville is the PERFECT place for beautiful scenery! She was so great at capturing all parts of my personality from formal dress to superheroes and I can't wait to see how these pictures turn out!"
Brebeuf Jesuit Preparatory School Senior Pictures
- by
Jake Iery
My name is Jake Iery, and I am a senior at Brebeuf Jesuit Preparatory School. I play football, and am involved in many organizations including, Student Council, Presidential Ambassadors, Entrepreneurship Club, National Honor Society, and Admissions Ambassadors. I plan on going onto college next fall and majoring in business, and playing football. I then plan to receive an MBA once I graduate and hope to work in the Sports Business field. I had a great opportunity to take my senior photos with JJ Kaplan, and I am very glad I did. My photos turned out phenomenal and I was in awe of how she could make them look so good. We were able to truly capture two of my passions in my pictures: football and the outdoors. The location where we took the photos was genius and I am very glad that we were able to capture these great moments. I would recommend JJ and Color My World Studio to any and all seniors inthe Indianapolis area that are wishing to take senior pictures, as she truly does a great job.
Zionsville High School Senior Pictures
- by
Samuel Joseph Lobdell
"My name is Samuel Joseph Lobdell, and after living and attending Zionsville schools my entire life I am finally a senior. At ZCHS I've dabbled in almost every sport from soccer, to baseball, to football, and finishing on the Zionsville Men's Volleyball Team. I also am a part of many organizations such as being the Vice President of Model United Nations, Co-president of Psych Club, member of Best Buddies, and Business Professionals of America. I plan on attending college next fall and competing at the intramural level in volleyball and enjoying Greek life while pursuing a degree in either Law, Finance, or Accounting. Living in Zionsville my whole life gave me many opportunities to view and distinguish between who to book for senior pictures and I could not be more happy with my decision to work with JJ. She was able to broaden my view as to what can be done for senior pictures and gave me every opportunity to get the best pictures possible; from driving and laughing together all over Zionsville to find just the right location with just the right lighting to letting me choose whichever background or wardrobe that suited me and my personality best JJ was more than helpful in creating the most desirable senior picture experience I ever could have thought of. After working with JJ and Color My World Studio I can do nothing less than recommend her for senior pictures or any other shoot in the future."
Covenant Christian Senior Portraits
- by
Hannah McCall
My name is Hannah McCall and I am a senior at Covenant Christian and about to graduate! I'm going to be heading to Olivet Nazarene University for the Film Studies major. I also do some acting and modeling on the side. I love working with JJ because she is so encouraging. During shoots she is very good about making you feel comfortable in front on the lens, and making you feel good about yourself. She is so creative with shot ideas and creates the coolest pictures. Also she is a mastermind with editing…she makes sure you still look like yourself when she is finished so it doesn't look fake. I love JJ because she is amazing inside and out!
Zionsville Community High School Senior Portraits
- by
Payden Leatherman
I'm Payden Leatherman, a senior at Zionsville Community High School. I'm looking forward to graduating this June and attending Ball State University in the fall. I plan on majoring in animation and minoring in either photography and/or film studies. I'm so glad I decided to have JJ take my senior photos! She made the experience personal and that made it so much fun! Due to the groggy winter/spring weather, my shoot was all indoors in her studio -- and I was not disappointed! The array of backgrounds and set options are seemingly endless! JJ helps fuel your visions of what you want your pictures to look like and makes sure you look your best in every photo.   I've seen the work she has done with other students and families and I would highly recommend having JJ take your senior photos or any other photos for that matter.
Center Grove High School Senior Portraits
- by
Hannah England
My name is Hannah England and I just graduated this past December from Center Grove High School. My mom began to look for a senior portraits photographer as soon as my junior year was completed. After  a thorough search on the Internet, we just so happened to stumble across none other than colormyworldstudio.com and fell in love at once with JJ's work. After reading through her blog, bio, and gallery, we made our appointment and drove up to Zionsville knowing one fact: This woman knew how to take incredible pictures. We would learn however that she was so much more. Throughout my sessions with JJ I really began to love her kind and bubbly personality, her excitement and her passion. She does everything she can to capture all of parts of your personality. I have been told I have a complicated personality since I'm as much of superhero girl as I am a princess and JJ captured it all perfectly! I am so pleased with NOT ONLY my senior portraits but the entire experience with JJ Kaplan. She really is a remarkable woman with a wonderful heart and passion for not only photography, but for people in general. And personally, I think that in itself is worth a drive to Zionsville!
Zionsville Community High Senior Portraits
- by
Michelle Hoppe
I'm Michelle Hoppe, I'm a Senior at Zionsville Community High School and I had the privilege of working with JJ Kaplan. I have never met a woman who is more passionate about her work in my entire life. She is one of the most well rounded people I have ever met and I love what she did for my photos.  During my shoot, it rained much to my dismay, however JJ was very adaptive and we had an indoor shoot instead. I can't even tell you how many outfits we pieced together. She has a great fashion sense and her hair and makeup lady, Kelly, is an absolute delight. They both made me look gorgeous. I couldn't be happier with my photos.   Not only did I have an indoor shoot, I did get to go outside as well. JJ has some very beautiful locations that enhance her photos even more. She is a wonderful photographer and friend. I'm so glad that she was able to take my photos. The hardest part was choosing which photos we loved the most, there were so many! I would recommend for anyone to go see her. I promise that you will love your photos. I know I did, so much so that I invited JJ to my Graduation Party.
University High School Senior Photos
- by
Maddie Hoover
My name is Maddie Hoover, and I am a senior at University High School. I play varsity tennis, write for the school's online newspaper, and edit the yearbook. I enjoy cooking, am learning photography, and I am passionate about the Timmy Global Health Organization. I had a chance to travel with them on a medical/dental mission in January and am working to start a chapter of the organization at my high school. In the future I hope to go to dental school and perhaps become an orthodontist. Selecting JJ as my senior photographer was an easy choice. She took my sister's senior pictures and did such a great job! My sister is beautiful, but did not really feel pretty until she saw her senior photos. JJ has a way of making kids feel comfortable and bringing out the beauty both on the outside and within. My session with her was great. I do not really like posing for pictures, and I drove my mother crazy leading up to the photo session because I did not even want to try clothes on. We brought outfits from my mother's, sister's, and my closet, and JJ helped me to choose what I would feel the most beautiful and comfortable wearing. She made the session easy and fun. We even took a few shots in the swimming pool. JJ also works to perfect the photos after they are taken. The initial proofs were really great, but the actual photographs were even better. She makes sure that the lighting is perfect and that every flaw is removed. She treats every picture with as much care as she does her own State Fair winning photos. I highly recommend her to any senior who wants a special experience and great photographs.